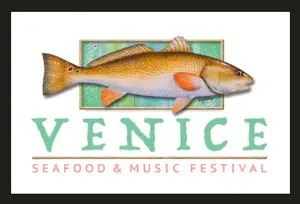 Venice Seafood & Music Festival
Venice Seafood & Music Festival in Centennial Park - Join Venice MainStreet as we host the first inaugural Venice Seafood & Music Festival, a Lovin' Our Experience downtown Venice as you enjoy superlative foods, refreshing drinks and relax to live musical performances on stage! The Venice Seafood & Music Festival is created, as are all good meals, thru incorporating and blending the finest ingredients. You will find all types of food prepared fresh onsite by local restaurants. Seafood dishes are created using the finest ocean resources from Florida's Gulf coastal waters. Meat and vegetarian dishes also are on the menus. Foods will be accompanied by a diverse and delicious assortment of drinks, both alcoholic and non-alcoholic. Enjoy all your local seafood favorites from our outstanding restaurant community including: Blu Island Bistro, Brew Burgers, Burgundy Square Café, Café Venice, Captain Eddie's, Cedar Reef, Crow's Nest, Daiquiri Deck, Made in Italy, and Saltwater Café. While enjoying your meal and drinks be caressed by the captivating sounds of live musical performances on stage by many of Florida's and the region's top musical talents. Music will be from such genres and R&B, jazz, rock, reggae, soul and Caribbean sounds. Join us for a weekend of delicious food, drinks and music while enjoying the camaraderie of family and friends and beauty that is downtown Venice. We will lay the feast – all we need is you! Visit www.seafoodfestivals.com for additional information including menus from each restaurant and the musical groups including the dates and times of their live performances.

Upcoming Events
There are no upcoming events scheduled.



Previous Events


Sun, May 7, 2017
11:00 am - 8:00 pm $FREE!
Venice

Sat, May 6, 2017
11:00 am - 8:00 pm $FREE!
Venice