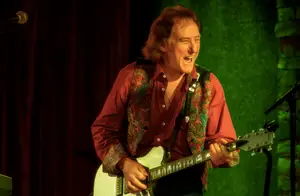 The Cryers w/ Denny Laine
Blues


Denny Laine is a multiple Grammy award winning artist and founding member of The Moody Blues and "Wings" with Paul McCartney. In his five decades in the music business, he has also performed and collaborated with many of the biggest names in classic rock including members of The Beatles, The Who, Led Zeppelin, Cream, The Jimi Hendrix Experience, ELO, The Zombies, The Hollies, and many more. Denny will be performing the greatest hits of his bands, the Moody Blues and Paul McCartney & Wings, and sharing intimate stories of his collaborations with all of these timeless artists.
Joining Denny on this leg of the tour will be his Paul McCarney and Wings band mate, Steve Holley. Besides Wings, Steve has also recorded with many legendary artists including Elton John, Joe Cocker, and Ian Hunter.
The Cryers, also featured in this tour, are one of America's premiere classic rock bands. They have been performing with Denny and other musical legends for over a decade.

Upcoming Events
There are no upcoming events scheduled.



Previous Events


Sun, April 2, 2017
7:30 pm $40 front( meet & greet at 5 pm) $20 GA
Sarasota