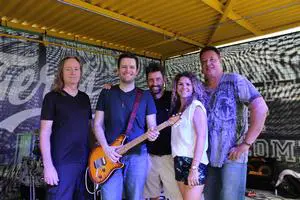 Brick City
Classic Rock, Country, High Energy Dance, Pop, Rock


Brick City is a band on a mission to keep the dance floor full and the crowd singing along to the all-time best music from the 80's until today.

Beth gets the crowd pumped with her on stage charisma and shatters the mold by performing the best songs from Aerosmith, Journey, Lady Gaga, and Kings of Leon with vocals that can turn from sultry smooth to a raspy kinda sassy at the drop of a dime. Chuck's vocals are a dead ringer for Van Halen's David Lee Roth and is guaranteed to tear down the house whenever he breaks out Billy Idol. Backed by highly trained musicians, Andres Alvarez on guitar, Gary on keys/rhythm guitar, and Chad on drums this train is rollin' at 99 mph and refuses to stop!

Upcoming Events
There are no upcoming events scheduled.



Previous Events


Sat, May 14, 2016
9:00 pm - 1:00 am $Free
Tampa

Fri, March 25, 2016
9:00pm - 1:00am $Free
Tampa

Fri, February 26, 2016
8pm - 12am $Free
Land O Lakes

Fri, February 12, 2016
9:30pm - 1:30am $Free
New Port Richey

Sat, February 6, 2016
8:30pm
Lutz