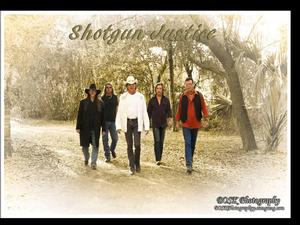 Shotgun Justice
Classic Rock, Country, Southern Rock


Jimmy Lally - Vocals, Guitar & Sax, Charlie Whitt - Guitar and Vocals, Kenny Gingtas - Percussion/Drums and Vocals, Jon Redding - Bass Guitar and Vocals - Donald John - Keyboards and Vocals
Put together from classic rock, southern rock and country veterans, Shotgun Justice puts it all together just right for any venue. With more years in the business than they would like to admit to, this band can rock any house and turn any event into a memorable one. Combining five lead vocalist into one tight sound along with strong guitars, versatile drummer and keyboard player extraordinaire there is no beating this line up.

Upcoming Events
There are no upcoming events scheduled.



Previous Events


Sat, January 23, 2016
6:30pm $o
Englewood

Sat, October 17, 2015
8-10pm AMI Bayfest $FREE
Anna Maria

Fri, August 21, 2015
7pm $0
Englewood

Fri, June 19, 2015
7pm $0
Englewood

Fri, May 29, 2015
7pm $0
Englewood